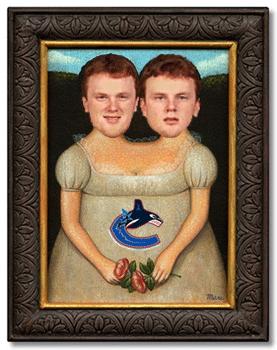 Expect some fisticuffs — Craig MacTavish is because he has inserted Zack Stortini and Jason Strudwick on the fourth line for tonight.
You can't blame him, since the Canucks are the second most penalized team and have the second most fights so far this season. The Canucks ran the Nashville Predators out of their own barn four nights ago, and the Oilers aren't nearly as tough as the Predators, even with Strudwick and Stortini in the line-up.
The Canucks won't have Roberto Luongo again tonight. He aggravated his groin in practice and might be out another month, so they have to win with grit and an in-your-face attitude. They are 4-4-1 without their all-star netminder, but lately they have really upped their aggressive play.
Will the Oilers answer the bell tonight? They better or Vancouver will continue their abrasive style. Not only do the Canucks fight — 31 fights from 14 different players — they also like to hit. The Canucks aren't that skilled on paper outside of the Sedin Sisters, Pavel Demitra, Mason Raymond and Kyle Wellwood, but they have a bunch of spit disturbers who love to run at guys all night.
Last season the Oilers answered the bell in a game that featured seven fights, including Sam Gagner going with Ryan Kesler, and that seemed to be a rallying point for them. The Oilers need to create some team unity and an identity at home, so maybe standing up for one another tonight against Vancouver should be a no-brainer.
It seems like forever since the Oilers were involved in a spirited game. I'm not expecting line brawls or anything, and probably not more than two or three fights, but it would be nice to see a game with some intensity and animosity. The Oilers have been way too easy to play against most nights this season. Let's see if they respond to a Canuck team that has been playing with an edge most nights.
The lines for tonight look like this:
Penner – Horcoff – Hemsky
Nilsson – Cogliano – Gagner
Moreau – Brodziak – Cole
Strudwick – Pouliot – Stortini
You'd expect that Stortini will do anything to make an impression tonight and stay in the line-up. But guys like Cole, Brodziak and Moreau have to be physical every shift. If not, the Canucks will be running at Hemsky, Gagner and company all night.
Roloson will start in goal.