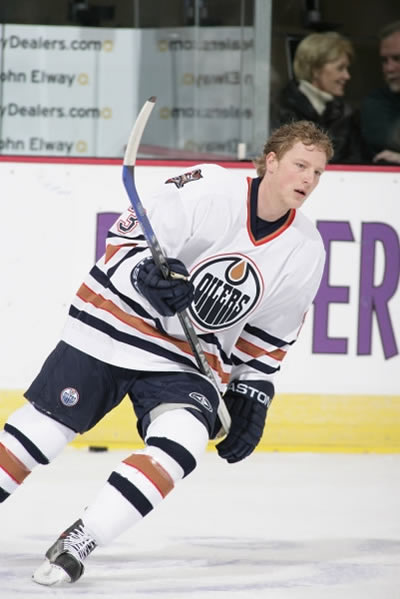 It might be permanently, or it might only be for the weekend. Either way Liam Reddox walked out of Rexall Place tonight carrying his hockey bag, so he will going to Springfield to try and help the Falcons win some games.
Reddox and Gilbert Brule should help the Falcons, and they will also stay sharp if they are needed back in Edmonton after the all-star break.
Other tidbits
Zack Stortini is already back skating and is eyeing a possible return next Friday versus the Wild. Stortini's ability to avoid a serious injury is still amazing to most. He said he is feeling great, and that the torn muscle is healing nicely.
It has been a long time since a player dominated a game for the Oilers the way Hemsky did tonight. He made it look easy.
"No deception whatsoever," said a stunned Sheldon Souray. "He throws in the odd toe drag to make guys look stupid and that's it. It's great to have him on our side. He's an elite player and his performance has spoken for itself all season. He misses ten games, comes back and totally dominates the games. I'm jealous."
Most adjectives to describe Hemsky ranged from sick, unreal, unbelievable, astonishing and even a joking envy. That was the best game I can remember Hemsky playing. He has had great goals before, but almost every shift he dominated and looked on a completely different level than anyone else.
What makes tonight even more incredible is that he isn't on the all-star team. Quickly: name the players in the west who can dangle as well as Hemsky. Datsyuk, Kane and that's it off the top of my head. There are other great players, but few who can make it look that easy.
At worst the Oilers will wake up tied for sixth in the west tomorrow morning and I don't know who will be more stunned them or the fans. The anticipation from fans for the game versus Buffalo will be huge, because tonight Hemsky left everyone from teammates, media and fans waiting to see what his next performance will bring.
Enjoy it fans, you might be witnessing the emergence of true superstar, and a player that will energize Rexall Place in ways it hasn't seen in a long time. Tonight after he scored the game winning goal, the fans chanted HEM-SKY, HEM-SKY. I can't recall another game where his name was chanted with such vigor and excitement.