Jason Smith arrived in a trade from Toronto (a 2nd and a 4th) in 1999, his third team in three seasons. An under the radar transaction led to a perfect fit for player and team that culminated in the "C" and a long Stanley run. It was the best of times.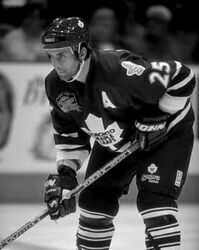 The day Edmonton traded for Jason Smith, there were many, many deals that got more press. On that deadline day in 1999, Detroit added Chris Chelios, Ulf Samuelsson, Wendel Clark and Billy Ranford. Colorado acquired Dale Hunter, Buffalo picked up Joe Juneau, Vincent Damphousse went to San Jose, Steve Duchesne to Philadelphia.
Way way down the list, Jason Smith to the Oilers for a 2nd and a 4th.
OILER CAREER
Jason Smith played in the NHL (with NJD) at age 20. In an October win against Washington, Smith was -2 in his NHL debut. By season's end he had played 41 games and was a plus 7, with a bright future ahead. As happens with many young defensemen, injuries played a part in Jason Smith's career in a big way. He missed most of the following season (94-95) after suffering a knee injury in practice November 1994. In 95-96 he played well enough to be a regular but struggled the following year and found himself traded to Toronto February 1997. At the 1999 deadline he was on the road again.
The Leafs were a strange team during that time, making all kinds of curious deals they'd regret and Smith was one of them. A quality NHL defender is worth more than a 2nd and a 4th but that was the pricetag. Jason Smith was quality for 7 seasons in an Oiler uniform and the Oilers enjoyed the heart of his career.
Jason Smith went to war for the Edmonton Oilers. Reliable defensively and more than capable of handling the physical game, Smith's edgy play (he once punched the back of an oppenent's head about 10 times in a row at the end of the game–ref's hand is up, time is ticking off the clock, the puck is loose in the slot, the opposition forward is trying to find it–but Smith kept punching him in the back of the head!) made him a fan favourite early, and the fact that he was a stand up guy made him a natural leader.
"Gator" became well known as a guy who played through pain and injury routinely.
CAREER HIGHLIGHTS
Drafted 18th overall, 1992
WHL All-Rookie Team, 1992
WHL First All-Star Team, 1993
Canadian Major Junior First All-Star Team, 1993
Bill Hunter Trophy (Top WHL Defenseman), 1993
Won a gold medal with the Canadian WJC team, 1993
Won a Calder Cup with the Albany River Rats, 1995
Captain of that wonderful 2006 Oiler team
Played in his 1000th NHL game, 2009
Captained his junior team, his AHL team, and two NHL teams
Longest serving captain in Oilers history (2001-07)
LEGACY
Asked how he could play with two dislocated shoulders Smith replied "No excuses, I'm still living."
-Wanye
When Jason Smith arrived in Edmonton he was battle-hardened, had leadership qualities, had learned to deal with injury, had a boatload of defensive talent and was willing to do damn near anything to establish himself in Edmonton.
He played like that every night he was here, even after his body began to show signs of age and wear. He is fondly remembered as one of the toughest players to wear the uniform.