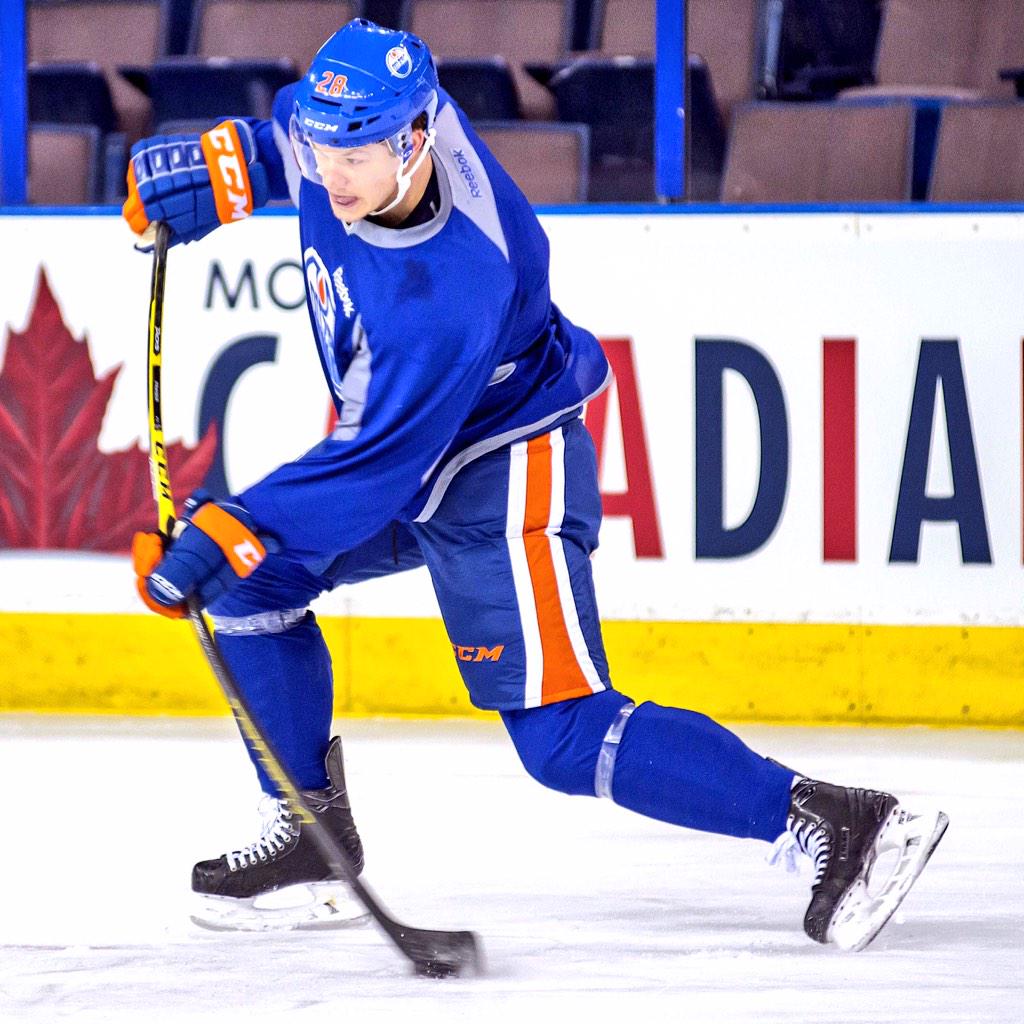 Matt Fraser is five days younger than Jordan Eberle, but not much else about their hockey career paths is the same. They both played in the WHL. Eberle in Regina, while Fraser played eight games for Red Deer before being traded to Kootenay and playing four full seasons for the Ice.
Eberle was a first round pick, 22nd overall in 2008. Fraser went undrafted. At 20, Eberle was an NHL rookie, while Fraser was playing in final season in the WHL. The Dallas Stars signed the 20 year old to a three year entry level deal in November of 2010, and he debuted in their organization with Texas of the AHL in September of 2011.
Fraser scored 37 goals and 55 points in 73 games as an AHL rookie, while Eberle tallied 34 goals and 76 points in his sophomore season with the Oilers.
In 2012/2013, both of them were in the AHL due to the lockout. Eberle scored 25 goals and 51 points in 34 games with OKC before returning to Edmonton when the lockout ended. Fraser kept battling away in the AHL. He scored 33 goals and 46 points in 62 games, and he played 12 NHL games for the Stars scoring a goal and three points.
That summer, Fraser was part of the Tyler Seguin trade and was dealt to Boston. He started the season on the Bruins farm team, Providence, but continued to score goals close to his same 0.5 goals/game rate tallying 20 goals and 30 points in 44 games. He played 14 games with the Bruins, but more importantly he dressed for four playoff games and scored a goal in his first game.
It has been the highlight of his brief career. I spoke with Fraser about being put on waivers, being picked up by Edmonton, only 90 minutes away from his home town of Red Deer, and what he feels he can bring to help the Oilers improve.
We started out discussing being in Boston and ultimately going on waivers.
"Being a younger guy in the Bruin's
organization is not always easy. You try to carve out a niche, and sometimes
the opportunity isn't there a lot of the times, but I believe you've got to
create your own opportunities.
"When they told me (going on waivers) it
wasn't the greatest feeling, but that feeling was definitely a one eighty after
hearing that I was picked up by the Oilers," explained Fraser.
The Bruins depth chart is much deeper and more experienced than the Oilers, so was Fraser happy that he was going to a team that had openings within their top-nine, and a place where he can show what he is capable of?
"You know what, I think it's the best
opportunity for me to show not only the kind of player I can be, but [also] the
kind of leader I can be," said Fraser.
"As you know I'm from Red Deer and you hear about everything. My
parents still live there and they hear everything, but for me I want to come here and play my game, but
be an impact player every time I come on the ice.
"I've always prided myself on whether it was
a practice or a game that I brought the best effort I
could every day. I was an undrafted player, I was never a high profile guy and
I've had to live by that model my whole career. I think this is an opportunity where
I can hopefully bring that into the team and whether it's a game or a practice, I need to be one of the hardest working guy on the ice and hopefully that translates to the other players," said Fraser.
Fraser doesn't have the luxury of being a former 1st, 2nd or even 3rd round pick, and while where you were drafted shouldn't matter once you are in the NHL, it still has an impact until you become a regular, every day player. I believe it is good having players like Fraser in your dressing room. He is wired not to take a shift off, because he's had to scratch and claw for every minute of icetime in his pro career.
VOCAL LEADERSHIP
The Oilers don't have many vocal leaders. Matt Hendricks is one, Andrew Ference can be as well, but Eberle, Ryan Nugent-Hopkins and Taylor Hall are not very vocal. It isn't in their personality, and that is fine, but the Oilers need a few more players who are comfortable speaking up.
Does Fraser possess that quality?
"If there is something that needs to be
said, I'm not afraid to say it, and again, that's how I've been for my whole
career. Sometimes those guys that step up and say something it's not the
easiest thing, because a lot of the times you're calling out someone that needs
to be better and at the same time you've got to make sure that you're being
better too.
"I look forward to challenging myself and
challenging everyone here and becoming a better player and hopefully in turn
making everyone else better," Fraser explained.
"I talked to Mr. MacTavish after I found out I was picked up and the first thing I told him was I
want to be a part of the solution, I don't want to be a part of the problem. For me, I know what I can bring and what I can't
bring to this team, and I look forward to bringing positive
energy to this team and being excited to play. Sometimes that gets lost, especially when you are losing," said Fraser who spoke more live a seasoned veteran than a young guy still trying to find his way.
Fraser is the same age as Eberle and only a few years older than Hall, Nugent-Hopkins and Yakupov. He likely can relate to them on a different level than Ference. He likes the same music, has the same interest and he has seen what it takes to win.

He didn't play a lot with the Boston Bruins, but he was around them long enough to realize why they were successful.
"I was lucky getting to play with so many great
players in Boston.
I mean [Milan]
Lucic, [Zdeno] Chara, [David] Krejci, [Patrice] Bergeron, they're
special players in this league and they're guys that are committed to winning
as a team. They're committed to winning and being a great team, year after year. Chara won a Norris Trophy, Bergy being a Selke
winner, you look at all of these players who are committed to winning as a team
and in turn it turns into their own personal success and even [Tuukaa] Rask.
"He won the Vezina
last year. In Boston everyone is committed to a greater goal than their own personal
agenda and I think that's the culture that you need, that's the attitude and
recipe that you need for a winning team. I'm sure Bergy would have a few more
points if he wasn't so committed to playing defence and being a good two-way
player, but that's just the kind of guy he is, that's the kind of player he is
and that's the level of expectation the players have developed there. There's a greater agenda for an NHL team than one's own personal
success and that's something that I definitely learned and something that you
definitely have to appreciate, and I will convey to my new teammates here," said Fraser.
One of the biggest criticisms of the Oilers on-ice play the past few seasons is that they don't do the small things that lead to victories often enough. The coach can demand it, but ultimately it is up to the players to hold each other accountable. The Oilers, and their fans, will need Fraser to remind his young teammates of that regularly.
WHAT CAN HE ADD TO THE OILERS?
Fraser is not a playmaker. He's always scored more goals than assists. In junior, (regular season and playoffs) he finished with 104 goals and 101 assists, in the AHL he scored 95 goals and 43 assists and in the NHL he has nine goals and three assists, including two goals in five games with the Oilers.
He has a quick release and a hard shot, but the knock on him has been his skating.
I asked him about his skating and the whispers that his lack of quickness was a concern.
"I'm a guy that likes the puck on my stick
and I'm a guy who takes a lot of pride when it is on my stick that it finds the
back of the net. That's something I've always made sure is up to par. With the
league how it is now a days, you can't be a one dimensional player. You've got to be good in all
facets of the game because that's what makes the good players good.

"As for the
foot speed, I'm not
the fastest guy on the ice, but I think you can make up for your
deficiencies in how hard you work, by showing how bad you want
it. If you're a guy that wants it, a guy that goes in
the corners, or goes to the front of the net and you're not afraid to take a cross
check then sometimes those deficiences don't come out as bad," said Fraser honestly.
Good teams have a mixture of players with different qualities. You need heavy players, you need quick players, you need shooters, passers, good defensive players, but all of them have to contain some level of desire and competitiveness.
Fraser believes his biggest asset is playing in the tough areas of the ice.
"Absolutely. I've had some
success at the American League level and a lot of that was because I was parked
right in front of the net. The goalies, with how good they are now a days
and how quick they are, you're not going to beat them very often with
direct shots . It isn't easy or fun going to the front of the net all the time, but it's definitely a challenge for myself. You want to
get there.
"I'm a big body, I've got a big frame and
you've got to use that to your advantage because if you don't then all of a
sudden you're just a slow player and you're a player that doesn't bring anything to the table. You're a vanilla player is what it's referred to as, and that isn't good.
"For me, you've got
to enjoy going there (to the net), you've got to enjoy getting your nose dirty and enjoy
getting some blood on your jersey and getting into those areas because that's
what makes hockey fun, that's what makes hockey what it is. You show up to the rink every
day and that's what makes it exciting to play, because at the end
of the game you can sit in your stall, and you're exhausted, but
you know that you gave it your all," said Fraser smiling.
Fraser's career path has opened his eyes to the reality of how he has to play if he wants to remain in the NHL, and most importantly, contribute while he is here.
He's made a good first impression, two goals in five games, but the challenge will be maintaining his performance and his positive outlook, and hopefully he can relay to Eberle and the other young players what it takes to be a winning team.
PARTING SHOT…
Fraser, Derek Roy and Rob Klinkhammer all came to Edmonton with something to prove. They've contributed thus far, and they've added some positive energy within the room. The challenge will be maintaining that if the losses pile up again.
Todd Nelson has made one major change since coming to the Oilers. He's demanded more intensity and pace in practice according to veteran forward Matt Hendricks.
Recently by Jason Gregor: