Connor McDavid lost 15 pounds, maybe more, in the past month dealing with an illness. He was noticeably gaunt in his face and his body was slimmer, but despite the illness McDavid never missed a game and is tied for 9th in NHL scoring with 35 points. Even at less than 100% McDavid is still one of the best players in the NHL, but his performance Sunday in Toronto reminded everyone of how great he is when he's healthy.
He still hasn't regained all the weight he lost, but he is finally feeling better. Even with him battling a loss of weight and strength McDavid's numbers haven't dipped very much from last season. He averaged 1.21 points per game last year and currently sits at 1.16 this season. Through 30 games last season he had 38 points (1.26 per game), but then he produced 38 points in his next 37 games (1.02 PPG) before erupting with 25 points in his final 14 games (1.79 PPG).
After watching Sunday's performance, even though he didn't get on the scoresheet, I sense McDavid is poised to elevate his offence again like he did late last season.
The Oilers desperately need a winning streak or a stretch where they win eight of ten games to get closer to the playoff cutoff. The Oilers have been in 14th place in the western conference since October 17th. They were seven points out of a playoff spot on November 1st, and this morning they are now eight points out. They haven't made up any ground in six weeks. They've basically been in a holding pattern, but they need to start chipping away at other teams and reeling them in.
They can't stay in neutral any longer, and with McDavid close to 100% again, the Oilers need some wins, and I expect their Captain will carry them.
McDavid was all over the ice on Sunday and it reminded you of how truly dominant he can be. He previously wasn't playing poorly by any stretch, but he wasn't as explosive as he was on Sunday. He had the extra gear back in his stride, and when he is moving like that there are very few teams or players who can slow him down. It is rare to see him dominate like that and not show up on the scoresheet, and I doubt we see him held pointless again in a game where he controls the play as much as he did on Sunday.
Your best players impact the game more than the complementary players, and with McDavid healthy again, the Oilers might finally be able to string together multiple consistent efforts.
LINEUP…
Lucic-McDavid-Puljujarvi
Khaira-Draisaitl-Strome
Maroon-RNH-Cammalleri
Slepyshev-Letestu-Kassian
Nurse-Russell
Klefbom-Benning
Auvitu-Davidson
The Oilers did everything but score on Sunday, and it won't be easy scoring against the defensively sound Blue Jackets. We will likely see a lot of 5×5 play and the Oilers have done quite well there lately. They are 5-3 in their last eight games and they've outscored their opponents 33-27, but at EV they have outscored them 29-19. They have two SH goals and two PP goals, and their horrendous PK continues to struggle, allowing eight powerplay goals in eight games.
The good news for the Oilers' struggling PK is the Blue Jackets don't get many powerplays — only 85, second fewest to the Oilers 80 — and when they do get a man advantage they rarely score. They only have eight powerplay goals all season and their PP is only 9.41%.
Blue Jackets
Panarin-Dubois-Anderson
Milano-Wennberg-Foligno
Calvert-Dubinsky-Bjorkstrand
Jenner-Sedlak-Hannikainen
Werenski-Jones
Johnson-Savard
Harrington-Nutivaara
Bobrovsky
Pierre-Luc Dubois has performed better than expected when promoted to centre the top line and that trio has been dangerous for the Blue Jackets. The Werenski-Jones pairing will see a lot of McDavid, along with the Dubinsky line. The Wennberg line has struggled offensively. He only has 11 points while Foligno has 12, but they don't give up much offensively. I wonder which matchups we will see outside of the McDavid matchup.
Bobrovsky is second among starters with an excellent .930sv%. Only Cory Crawford is better at .932, but Bobrovsky has the league's best GAA at 2.05 among goalies with at least ten starts. He is a Vezina candidate again and is very difficult to score on. He is 6-3 all-time versus the Oilers and his only loss in Columbus occurred February 10th, 2013, when the Oilers won 3-1 with an empty net goal. They only had 13 shots on Bobrovsky that night, but Devan Dubnyk stood on his head stopping 39 of 40.
TONIGHT…
GAME DAY PREDICTION: It is a low-scoring affair that ends in a 2-2 tie after regulation. The game goes to OT, where Columbus loses for the first time this season. They are 5-0 in OT and 3-1 in the SO. They allow their first 3×3 goal of the season as Draisaitl scores the winner.
OBVIOUS GAME DAY PREDICTION: McDavid gets on the scoresheet. He hasn't gone two games without a point all season. Only eleven times — five as a rookie and six last year — has McDavid gone two consecutive games without a point. He still hasn't gone three games without a point, which is ridiculous.
NOT-SO-OBVIOUS GAME DAY PREDICTION: The Oilers have scored first a league-low eleven times. The Blue Jackets are 13-3-1 when scoring first and 6-7-0 when allowing the first goal. The Oilers score first, and more importantly don't allow a goal on the first five shots.
MONTH OF GIVING
Thanks to Joe for his great $5000 bid and to Michelle Derk for the wonderful donation of waiving her realtor fee.
Day #8: Todd McLellan coaches your kid's hockey team practice.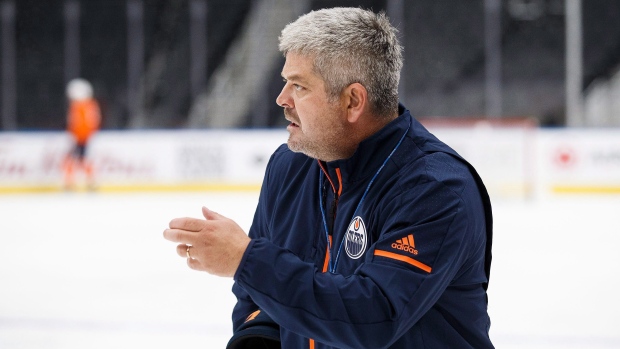 Your son or daughter's minor hockey team will have an hour practice at the community rink in January-March with Todd McLellan running the practice
McLellan will take the team on a tour of the Oilers coaches room and other facilities
A signed Oilers jersey by every player on the team.
You can bid by calling 780.444.1260 
or text 101260 between 2-6 p.m. today.
Thanks in advance. All proceeds will help out The Christmas Bureau
Take home a growler, a crowler, a sixer, a mixer, whatever. Sherbrooke Liquor. Where's Your Beer?
---
Source: NHL, Official Game Page, 12/12/2017 – 11:00am MST