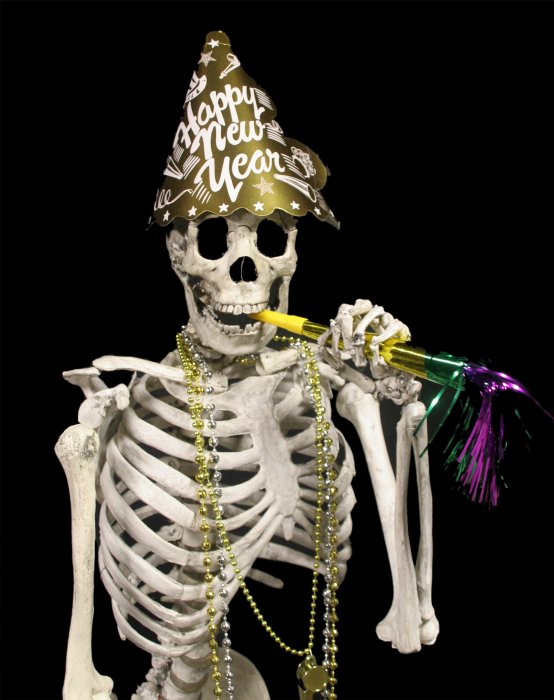 One more year almost gone. Another to come. With 2011 on the way, I can't remember being this optimistic, be it about the Edmonton Oilers or life in general.
That's not my nature, as many readers here can attest, but as I slip into my 50-something years more gracefully than I thought myself capable, I can't help but look ahead feeling the best is yet to come — even if there's not as much time left as I'd like.
Most of that optimism has to do with issues completely unrelated to the Oilers — my sons Sam and Michael, my wife, Analyn, and the happy place we're at in our lives. Likewise, where I find myself at, unplanned as it's been, in this scam otherwise known as a career in sports writing.
I'm not Tom Renney optimistic, mind you, but I'm content and happy and hopeful about life in general and excited as an aging ink-stained wretch like me can be about what the New Year will bring.
Likewise, about the Oilers. They're the object of the exercise here, so, for the most part, I'll stick to them.
WATCH THEM GROW
To steal from the always perceptive Lowetide, if you're an Oilers fan, you should be sitting back and taking in every baby step this team makes on the way to better days — they cannot be worse than 30th, after all.
We saw another one of those steps in a losing effort last night as the Oilers closed out the 2010 portion of their schedule with a 4-3 shootout loss to Colorado. That's five straight losses to end the year. No matter.
Even with the possibility this team might lose 50 games now that Ryan Whitney is gone — I'm hearing surgery to repair a damaged tendon and three months out, essentially the balance of the season — we saw more of the promise Lowetide has been on about.
Yes, there will be growing pains and failures. Yes, there are gaping holes to fill, glaring weaknesses to address and players to acquire, more work to do. And, yes, there is at least reasonable doubt this management group has the moxy to pull it off. All of that is grist for the mill here. I get that. Most of us do. It's part of the process.
But mercy, the growing group of young players — Taylor Hall, Jordan Eberle, Magnus Paajarvi, Theo Peckham, Sam Gagner and, yes, even supposed spare part Andrew Cogliano, showed brass balls against the Avalanche.
I lean heavily — many would say too heavily at the expense of common sense — on the willingness and ability of players and teams to show me some fight, some screw-you-we-won't-quit. Personal bias. First-hand experience as a guy who was long on try and short on talent. Call it what you want. I like it. And I know it when it see it. I see it here and now.
LET'S PLAY
The Oilers spent the first 15 minutes against Colorado looking like they'd never played the game. They were outclassed at every turn. A game like that, 3-0 by 14:49, could have ended up 8-1 with the wrong group of kids. "Not our night. We'll get them next time." But not this group of kids. Back they came, like a house on fire.
My old and shrinking sports writer's gut doesn't spell out the details for me, much to the amusement of those who prefer more exact ways of measuring what they see, but it tells me Steve Tambellini, be it happenstance, luck or design, is assembling the right kind of kids here.
And they aren't just we-won't-quit pluggers, either. If you have that kind of chip on the shoulders of talented diamonds in the rough like Hall and Eberle, Peckham and Paajarvi, Gagner and Cogliano, if you add that stubborn streak, you've got something to work with. As always, patience willing
For all the shortcomings, for all the deficiencies, for all the fire drills we'll see in front of Nikolai Khabibulin and Devan Dubnyk without Whitney in the fold on the way to a lottery pick, I see that spark.
When the Oilers get another top-five pick under Stu MacGregor next June, if Jeff Petry and Peckham grow into what I think they can be and if there's even one find like them in the system among Tyler Pitlick, Martin Marincin and Curtis Hamilton, those better days won't be so far off.
When it comes to the Oilers, like 2011, I'm hopeful.
AND…
— Via Oilers news release: "General Manager Steve Tambellini announced today the Edmonton Oilers have recalled defenseman Shawn Belle from Oklahoma City of the American Hockey League. Belle, 25, has played in 31 games with the Barons this season recording 19 points (3G,16A) and 41 penalty minutes. The 6'1", 235-pound Montreal, Quebec native was originally recalled in November, appearing in four games."
— Former video coach Brian Ross, who lost his job as part of the purge that saw Craig MacTavish shown the door, is back with the Oilers. He's helping Bill Moores in the Oilers expanding minor league development department.
— I'm puzzled as to why, exactly, Linus Omark got his ticket back to Oklahoma City today at the same time J.F. Jacques is still here. I'm not saying Omark can't use more seasoning, but what has Jacques shown?
— Last but not least, a healthy and happy New Year to all the readers of Oilersnation, even the needlers and knuckleheads who think they're smarter than I am (but aren't).
Listen to Robin Brownlee Wednesdays and Thursdays from 3 p.m. to 5 p.m. on the Jason Gregor Show on TEAM 1260.