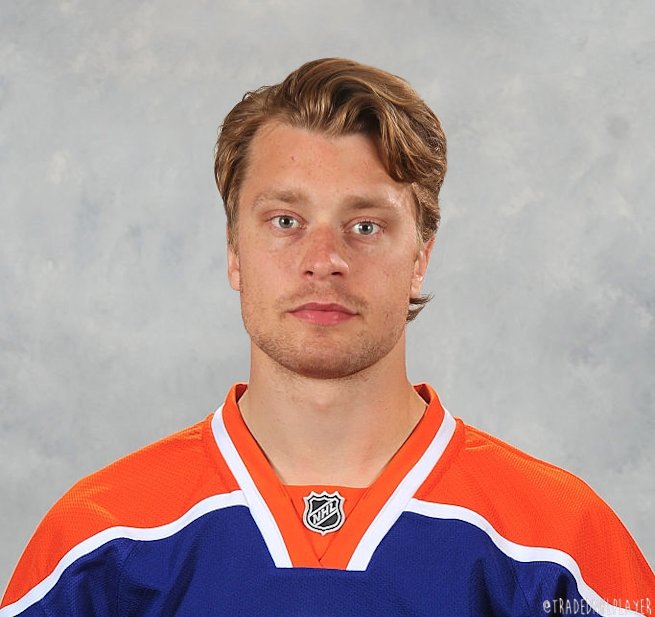 Adam Larsson was drafted fourth overall in 2011. He played 65 games with the Devils as an 18-year-old rookie in 2011/2012. He then split the next two season between the AHL (66 games) and the NHL (63 games), before becoming an NHL regular again the past two seasons.
The Oilers acquired him this summer in exchange for Taylor Hall. General Manager Peter Chiarelli made the deal because he felt the Oilers needed a legitimate right-shot defender. Larsson is a proven defender. He's played tough minutes the past two seasons and done well. He arrived in Edmonton in late August to find a place, get comfortable with the city and to get acquainted with his new teammates.
I sat down with Larsson earlier this week to find out a little more about him.
**My thoughts are in italics.**
The past two seasons Larsson has played almost exclusively with Andy Greene at EV. He played 1943 EV minutes with Greene. Jon Merrill was his second most common partner and they only played 136 minutes together.
Jason Gregor: How much have you learned the last few years playing with Andy Greene?
Adam Larsson: A lot I would say. Having him, such a calm demeanor back there and he's such a good skater and for me he's probably one of the most underrated guys in this league. People maybe don't notice him because he never does anything wrong, but he helped me a lot and he taught me a lot. Mainly about the need to be patient, while also being aggressive in your own end. It was just a great experience for me playing with him and my time in Jersey was good, and now I'm on a new chapter in life and I'm very excited about that.
Gregor: You were on the Swedish National team with with Oscar (Klefbom), but you've never played as a pair before. How much time will it take for you two to understand one another?
Larsson: I think that that is the charm with the pre-season. You're going to see mistakes from me and from Oscar as well. It will take some time to find the chemistry together, but pre-season is eight games so once the season starts and you have those games under your belt you can't have excuses there. You're going to go out and it's all business after these eight games, and you have to be as prepared as you can as a pair, as a team, and as an organization when the season starts.
***I love Larsson's attitude regarding the regular season. Once it starts, not excuses, but their understanding of one another will evolve throughout the season. Those two will likely play five preseason games together, and it would be great if they understand every tendency of the other, but it is unlikely. It will take time, just like it will for new forward combinations, but I like his belief about no excuses for the entire organization. There will be mistakes in the regular season, but at least he's focused on limiting them.***
Gregor: For Oilers fans who have yet to see you, what's the best element of your game?
Larsson: Probably my defensive side. I mean I'm a big guy so I try to use that as much as I can. I try to play with my stick and play body on body and I think that's my strength. And, in my opinion, I'm pretty good with the puck too. So hopefully that's my next step. I want to improve and get better there (offensively) and build on last year. I feel very confident going into this season.
***The Oilers desperately need a dominant defender. Any offence he produces in the first half of the season will be a bonus in my eyes. It is great he wants to keep evolving his game, as all players should, but his strength is defending and early on if he does that well, then the forwards can do the scoring.***
Gregor: Last season was your best year offensively. Did you make more of a conscious effort to jump up in the play to be a littl more offensive in the second half?
Larsson: No, I wouldn't say that. It was more that I got more comfortable, I got more trust from the coaches, I could tell the coaches trusted me and then you just build on that. You go more forward. I mean it's hard to really point out what it is, but maybe you shoot more, maybe you don't look for opportunity (to pass) as much. I don't know what it was, but I kind of just kept it rolling.
***It is boring and some won't like it, but so much of the game is about confidence. Once a player has it they will make more plays and try more things. As Larsson said, often it just occurs organically without a specific focus. If the Larsson/Klefbom combination has success in their own end the offensive numbers will emerge over time.***
KLEFBOM
Gregor: I know it's only been a few practices and one game you have played with Oscar. What parts of his game do you feel will complement yours?
Larsson: It's going to be fun obviously, he's a Swedish guy and we know each other from the past and we were good buddies before I even came here. He was one of the first guys I called as soon as I heard there was a trade. Playing with him, he's such a big guy and a smooth skater for being that big, so that kind of helps if you're going to play against their top lines and stuff. Now I don't know if that's going to happen right away, it is up to the coaches, but you have to have confidence in each other. Both of us can't really go (jump up in play), so we have to have really good communication. I think developing that communication and understanding what each other likes to do in situations, that is the biggest key for us; especially in the start.
***I watched them closely on Monday. Klefbom hadn't played since December and he was rusty through the first 30 minutes. He found his game in the second half and he started pushing the puck up ice more. It was only one game, so we'll have to watch them more, but my first impression is to expect Klefbom to be the one more up in the play, and Larsson more comfortable hanging back.***
Gregor: Will you two speak Swedish on the ice?
Larsson: No (laughs), it's too hard to switch when one guy comes on and you have to talk English and then Oscar comes and you've got to talk Swedish, it's too hard to switch back and forth all of the time so I don't start speaking Swedish with Canadian guys (laughs).
Gregor: Maybe you can teach some of your teammates some Swedish?
Larsson: (Laughs) I think it's better if we stick with English on that one.
Gregor: You came from New Jersey, who had a new rink built just a few years ago. How does this rink compare to the one in New Jersey?
Larsson: I mean this is like… better than everything in the league I would say. If you just look around the locker room and the concourses and stuff, it's the nicest rink in the league for sure. I mean we had a nice arena in Jersey too, but as a player you don't get to see the concourses and stuff up there, but what we can see down low and up in the stands it looks unbelievable and it's going to be very fun to go out there.
Gregor: Any special reason why you chose number six?
Larsson: No, I had five in Jersey, I thought the closest number to five was six. I don't have any specific [reason] why I chose six, no. I'm not a big number guy.
Gregor: You talked about your defensive game being a strength. This team has struggled giving up goals; they've allowed the most in the NHL the last six years. How are excited are you for the challenge to be one of the main parts to turn that around and have this team start to move up the standings?
Larsson: Yeah it's exciting, but we have to do this as a team. It's not just me and Oscar and Connor or anyone, it's everyone that has to put this together I think collectively we can take steps. We're young in defense too and even with [Darnell] Nurse and [Brandon] Davidson it's going to be a fun road for us all if we do it right. I think that it's going in the right direction, but we have to prove it on the ice.
***Larsson hasn't seen much playoff success in his career either. I got the sense from his answers and our conversation after the interview that he's much more focused on actions than words. The Devils went to the Cup Final his rookie season, but he only played in five of their 23 playoff games. They missed the playoffs the past four seasons. He's tired of not being in the playoffs. He thought it would happen regularly after his rookie year. He wants to get back in, and you'll hear a constant refrain from him. It is about the team, not individuals. The entire team has to play well.***
Gregor: Your thoughts on [Connor] McDavid and [Leon] Draisaitl and [Ryan] Nugent-Hopkins,  who were at the World Cup and the three centers that you're likely going to get to play with. What's your impression of those three?
Larsson: Well I think everybody knows Connor and I think Nuge is such a smart player, and Draisaitl, for being such a young guy, seems very mature for his age too. You can tell on the ice they're calm and they're smart and I think that will be very important for our team. We need to play smart and fast, but be calm.
WRAP UP
His last line about staying calm was what he felt Greene taught him the most. As a young player you want to go, go, go but Greene taught him you have to be aggressive while staying calm. It is as difficult as it sounds he laughed, especially in a game that moves so quickly.
Larsson came to Edmonton early because he wanted to get comfortable off the ice. He believes being comfortable in your surroundings will improve his chances of success.
It was my first real conversation with him, and I came away with the impression he is really looking forward to the challenge of being a defensive catalyst. He knows there will be expectations because of who he was traded for, but he can't let it impact his game. He said the strengths of his game equal him not being noticed.
Of course, he wants to produce more offensively, but his biggest impact will be in lowering the Oilers goals against. He is excited and ready for the challenge.
Much of the Oilers success will hinge on the play of Larsson and Klefbom. If they become a reliable pairing, who excel playing against the best opposition, then the Oilers will have a decent chance at improving and pushing for the playoffs in March and April.
Recently by Jason Gregor: