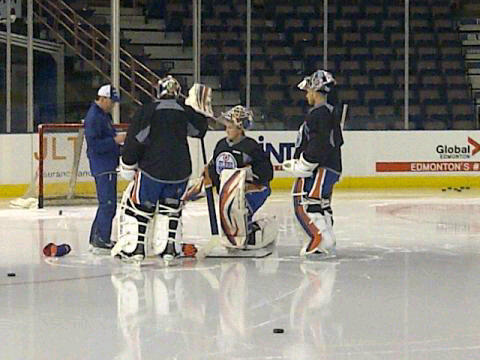 The Edmonton Oilers fired goaltending coach Freddy Chabot earlier today and replaced him with Dustin Schwartz. This isn't a surprise, but why did Craig MacTavish wait this long?
I wrote last spring that Chabot should have been let go so the Oilers could hire another coach. Under his direction multiple goalies have struggled.
Ilya Bryzgalov played well during his short stint in Edmonton, but Nikolai Khabibulin, Devan Dubnyk, Ben Scrivens and Viktor Fasth have been unable to play consistently.
I will never blame all of that on Chabot. The players play and they control their performance, but clearly whatever guidance or instructions Chabot was or wasn't giving, didn't work.
What I don't understand is why general manager needed to see another 21 games of average goaltending to realize Chabot wasn't the answer? Had they let him going in April they would have had four months to interview and talk to numerous candidates, but firing him now means they had fewer options to look at.
SCHWARTZ
He played four seasons in the WHL for Medicine Hat and Red Deer, before playing five seasons for the U of A Golden Bears from 2001-2005.
He was been a goalie coach in the AJHL, and he has been a goalie consultant for the Edmonton Oil Kings for the past four seasons.
He has been working with the OR Sports goaltending group under Lyle Mast.
"OR Sports founder Lyle Mast, has
studied and researched athletic performance to find the true mechanism
and training platform for optimum reactions and performance. The result
is an unprecedented program based on Head TrajectoryTM, that instantly impacts the goaltenders ability to perform optimally."
Schwartz has worked with Ben Scrivens in the past and some other pro goalies, but this will be his first NHL job. Once again, the Oilers are adding more NHL inexperience. Schwartz might become an elite goaltending coach, but right now he is an unknown at the NHL level.
I'm not surprised Chabot had to go, but the timing of his firing confuses me. I don't see why they needed to wait until the team was tied for 29th place, again, to make a move.
This move should have been made last spring/summer.
Recently by Jason Gregor: