Where will Travis Hamonic land, Forbes comes out with the latest team values, Leafs and Canucks still dreaming of players coming home in 2016, teams a quarter of the way into the season, TJ Brodie won't be traded, trading Ryan Nugent-Hopkins in Oil country, two stars drop the mitts, fantasy hockey and more in this weeks Nation Roundup brought to you by DraftKings.
In the roundup we go around the Nation Network and give you some of the best articles of the last couple weeks. Every once in a while it's good to know what other teams are doing, or maybe you find an interesting article you wouldn't have found otherwise. (Posted across all Nation Network team sites)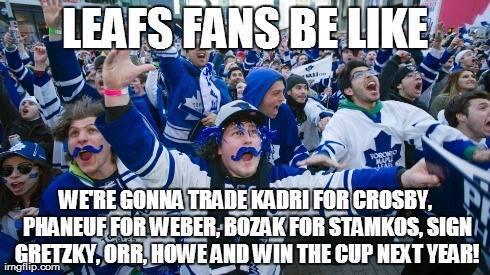 The countdown to William Nylander
Report: Leafs still focussed on selling even with recent success
?? TORTS AND @shelleyhawk45's PUPPY ?? pic.twitter.com/WBKOrAWTUj

— NHL Blue Jackets (@BlueJacketsNHL) November 23, 2015
Jim Benning won't meet Islanders ask for Hamonic
Milan Lucic and playing for the Vancouver Canucks 
Canucks 'D' and their impact on the neutral zone through 20 games
Forbes values Canucks at $745 million – 6th in NHL
Could the Jets be trying to extend Byfuglien before trading for Hamonic?
By the numbers: Tyler Myers, Travis Hamonic and Zach Bogosian
Is Mark Stuart the worst penalty killer in the NHL?
How have the Flames been a quarter of the way through the season?
Report: Flames interested in Hamonic but TJ Brodie is a 'non starter'
Which Flames should go to the 2016 NHL All-star game?
3 reasons to resign David Jones
Trading Nugent-Hopkins: Pump the breaks
Leon Draisaitl: German efficiency 
It seems unlikely the Oilers will land Travis Hamonic
Star Fight: Claude Giroux vs Nick Leddy
Shop: ViolentGentlemen.com
More from around the Network…
2016 Free Agent Profiles: Milan Lucic
2016 Free Agent Profiles: Andrew Ladd & Dustin Byfuglien
NHLNumbers: Your analytics mean nothing if nobody understands them
Daily Fantasy Hockey: Friday contest cheat sheet
Play DraftKings Friday Contest
Enter the $40K Sniper Contest HERE