Tomorrow in Detroit, New York Islanders forward, and Edmonton resident, Jason Chimera will play his 1000th regular season NHL game. He'll be the 309th player in NHL history to reach the mark and only the 10th player from Edmonton and surrounding area.
It is quite the achievement for the Millwoods minor hockey product and I caught up with Chimera earlier this week to discuss reaching the 1000-game milestone.
Chimera played one game in 2000/2001 with the Oilers, three the next season before becoming a regular in 2002/2003. He played 130 games with the Oilers, then 331 with Columbus, 490 as a member of the Washington Capitals and tonight will be his 49th game as a New York Islander.

Jason
Gregor: Where did you play your minor hockey in Edmonton?
Jason Chimera: It all started in Millwoods
Hockey back when I was younger and then to the Southside Athletic Club for
Bantam and Midget. Millwoods Hockey was a big thing for me.
Gregor:
Did your dad coach you?
Chimera: Yeah, he coached most of the teams
I think up until peewee or something like that.
Gregor:
And how was he as a coach?
Chimera: He was good (laughs).
Gregor:
Were you always a forward?
Chimera: Yup, I always played forward.
Gregor:
I'm assuming when you were younger you played centre?
Chimera: Yeah, I played centre up until I
started pro hockey.
Gregor:
You were kind of a small guy and then you had a big growth spurt, is that true?
Chimera: I was really small until after my draft
year. I was only like 155 pounds when I got drafted so I was pretty small up
until nineteen or twenty. I was a little shrimp. I was shorter, and then between eighteen and
nineteen I did a lot of growing, I put a lot of muscle on. I didn't grow until really late.
Gregor:
Let's go back to your time in the WHL in Medicine Hat. Who helped you the most
in Medicine Hat?
Chimera: You have so many people help you along
the way for sure. Rick Carrier was there when I was there and it's hard to
remember all of the assistant coaches. Kurt Lacken was a coach when I started I
think, and then so many guys that helped you along the way. You have guys on
your team that help you along, and most of all your billets too, Keith and Dee
Russell in Medicine Hat. They take you in first of all, they don't know you at
all. They don't know if you're a bad kid or a good kid. Billets are a big part
of Junior Hockey and they were huge for me. Also a big help in my career was Brian Swanson. He was my centre in the AHL for many years and we are still very close. He helped me a lot. 
Gregor:
Have you kept in touch with the Russells?
Chimera: Oh yeah, we keep in touch with
them either via phone or text.
DRAFTED
Gregor:
You went to the NHL draft — obviously just to get drafted is unbelievable. Were
you expecting the Oilers to draft you? (He was chosen in the fifth
round in 1997).
Chimera: Not really. You go to the draft
and a lot of people interview you before and you go through the whole process.
They weren't the ones who showed that much interest to be honest. For me it was
pretty much a surprise, but it was pretty cool once you think about it. The
draft was in Pittsburgh and you go there and once you get there and you're
drafted by your home town you go 'Why the hell did I go all of this way to get
drafted by the home town (laughs)?' So it's kind of funny, but it was a pretty
cool moment.
Gregor:
Growing up in Edmonton it must have been a thrill to pull on the jersey. Who
was your favourite Oiler growing up?
Chimera: I grew up in the hay day, I was
born in '79, maybe not knowing too much. I was really young at that time but
you had all of those guys, [Wayne] Gretzky, [Jari] Kurri and [Glenn] Anderson,
[Mark] Messier. It was crazy. And then more recently guys like Ryan Smyth, Doug
Weight and all of those guys, the Oilers you can remember. The list goes on and
on and it was a pretty cool team to cheer for when you were growing up in those
days for sure. I'm not sure I had one favourite. I liked them all.
Gregor:
Tell me about your first Oilers training camp, how excited or how nervous were
you?
Chimera: I was petrified. It was one of
those things you kind of watch. I think the first one-on-one was against Kevin
Lowe when I first went there. He just swatted the puck away like I was some
kind of baby, so it was pretty eye opening. You step onto Rexall Ice and see
all of the banners and it was pretty intimidating. Probably why I was white as
a ghost when I was first there (laughs).
Gregor:
You go to camp a few years, and you go back to Junior, and then you turn pro
and you're playing in the American League. Then you get the call that
you're coming up for your first NHL game. What was that moment like when you
finally know you are going to the Show?
Chimera: It was a Hockey Night in Canada
game and all I can remember about it was that my grandpa was in the hospital. Actually
it was the last time I saw him alive, he got to see the game from his hospital
game. He didn't get to come to the game because he was pretty sick. But he got
to see me play in the NHL so that was pretty cool moment for him because he was
one of my biggest fans. He was my dad's father so it was a pretty cool moment.
I still have the CBC towel. I think for every Canadian kid you get those towels
and those towels are almost better than goals for a lot of us.
Gregor:
Where did you score your first NHL goal and against who?
Chimera: It was funny, I was just
remembering it because I drove past the old Coliseum here on the Island where
I'm playing now. It was against Chris Osgood, so it was a pretty cool thing
because I can drive by that old barn again and I remember playing here and
that's where my first goal was. It was a fun moment for sure.
Gregor:
In Edmonton, I don't know if you ever felt that comfortable as a player here,
then you got traded and your career seemed to really take off. Was there added
pressure playing at home? Were you still figuring out the game? Why do you
think there was there more success post Edmonton than with the Oilers?
Chimera: I think like any time in life in
general it is about opportunity. I was strictly kind of a fourth line guy in
Edmonton. I never really got an opportunity to do anything else. You go to
Columbus and you really get a chance to play on the third line, and second line,
you play on the penalty kill and play some significant minutes and you build a
role for yourself.  I think my career
took off from there.
 So I
think every experience has been great along the way. I wouldn't trade those
Edmonton days for anything. You go to Columbus and I wouldn't trade those days
for everything. You learn a lot along the way and you keep plugging along the
way.
SKATING
Gregor:
You've always been a great skater, and still are after 1000 games. Were you a
natural or did you have a skating coach? Where did that skating ability come
from?
Chimera: I always said I owe a lot of
people. There are numerous people who helped along the way. It's Quantum Speed
now, but back then it was Stephanie Hanlin. She was a big part of my career
when I was younger in Edmonton. She was an Oilers skating coach for a long time
and she helped me along the way when I was younger. She helped me develop my
stride. I was always fast but she helped me tweak it and really learn the
basics and the technique of skating so I owe her a lot just with the stride and
all of that.
As you know, you've trained with him a little I think, Barry Butt. I've worked
out with him religiously for a lot of years and he's been there for my entire
NHL career so I think those two people, and obviously my parents, and my wife
and all of those people are so significant. If I don't have those people in my
life, I'd never be standing here.
Gregor:
We have the skating competition at the All Star Game. Have you ever timed
yourself on a lap?
Chimera: I think we did those skills
competition with the Oilers. I can't really remember what my time was, but I
think, if my memory serves me correctly, I was pretty close to 13.3 but I can't
recall what the time was.
Gregor:
That is McDavid and Gartner fast. You never did the skills with the Capitals or
the Blue Jackets?
Chimera: No, we haven't done one since the
Oilers days.
Gregor:
Is it because in Canada they know fans will come out for a skills competition? Are
you surprised Columbus and the Capitals don't do a skills competition?
Chimera: Especially in Washington. You can
have people come to the Skills and charge them five bucks a head and you donate
it to charity or something like that. It's very well received with the Canadian
clubs. I'm surprised more teams in the States don't do it, that's for sure.
SKILLED TEAMMATES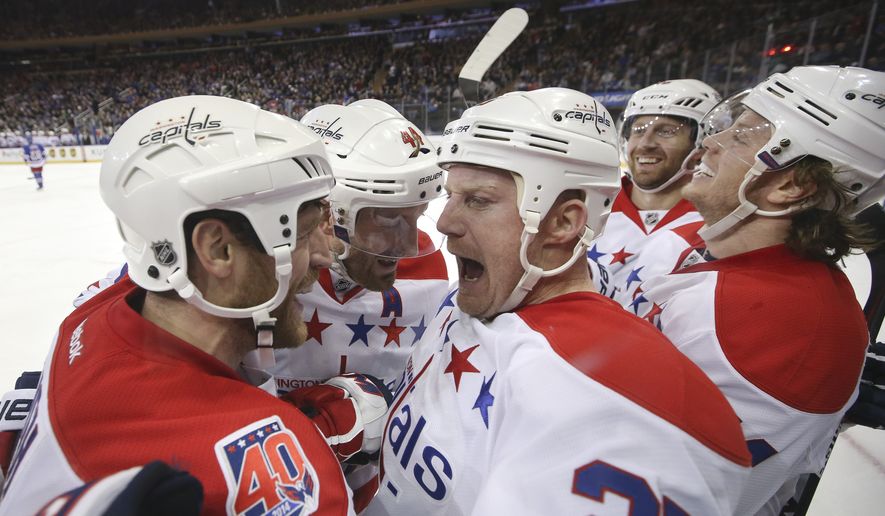 Gregor:
After four and a half years in Columbus you were traded to Washington. Is it safe to say the
two most skilled players you've played with are [Nicklas] Backstrom and [Alex] Ovechkin?
Chimera: Oh definitely. Backy, he's still
up there with the best two-way centres in the league. He does a lot of things
right. Defensively, offensively, he's been on both sides of the puck. Really
good kid and he's unreal on the half-wall. And Ovie is just a pure goal scorer.
He's sneaky. Many don't realize how good of a sneaky, good passer he is too.
Those guys in Washington, day in and day out it was just a treat for me. People
don't realize it but what you see in the game is just a tease of what they can
do in practice. It's unbelievable what they can do with the puck and how they
shoot it. To be able to play with those guys for seven or eight years was
pretty cool.
Gregor:
Did you ever get any one timer tips from Ovechkin?
Chimera: No (laughs), his curve and flex
are too wicked for me so I don't know if I could even replicate that.
Gregor:
You're thirty seven years of age and you're on the verge of joining a very
exclusive club, a thousand games played. Not many guys from Edmonton and area
have played a thousand games in the NHL. What does it mean to you?
Chimera: I'm not a guy who is going to
break records with points, goals, assists or those kinds of things. It's just a
really proud moment because that number is a huge number to reach and it's not
just a 1000 games pro, it is 1000 NHL games. I'm not a guy who likes the
spotlight on myself too much but I think it will be a pretty proud moment for
myself. It speaks of longevity, it speaks of consistency and people that helped
you along the way. It's just a really, really cool number.
Gregor:
Do you have any memorabilia you've collected along your career that means the
most to you?
Chimera: (Sighs) My first goal puck, I obviously
keep that. Lately I've been trying to keep a bunch of sticks for my son, and
you get some sticks along the way. Jerseys, you keep jerseys along the way,
just cool pucks like one hundred point puck, two hundred point puck, and your
eight hundred games, and there are a bunch of cool things that you keep along
the way. Some Team Canada stuff. You look back on it, you pull it out of the
drawer, you put it up and it's pretty cool to look at.
Gregor:
Do you have an Ovechkin stick or a Backstom jersey? Are you a guy who collects
from teammate?
Chimera: No I'm not a big collector but
I've recently just started to collect for my son, just get some sticks for him.
I've never been a big hoarder of stuff, but the sticks I'm trying to collect
for my kids.
Gregor:
How have you been able to stay so healthy all of this time?
Chimera: Ah, like I say, I think I work out
and obviously you owe a lot to a lot of people. I worked out with Barry for the
last 20 years. As soon as I met my wife, Sarah, I ate a lot healthier. I like
to play the game hard. It's not like I avoid corners or anything. I don't know,
there is no magic formula, I think you just keep grinding away I guess. You keep
plugging away, try to work out hard in the summer, try to prepare for the
season and that's about it. I worked hard to stay healthy, and I'm sure luck plays
a part as well.
Gregor:
Jaromir Jagr is still going strong. Are you looking to play another four or
five years?
Chimera: I don't put a number on it. I'm
still having the time of my life. Once my kids started playing hockey, both my
daughter (Ryann) and my son (Cale) play hockey, I realise it's going to come to
an end sometime. I just don't want it to come to an end, I'm still having fun
doing it and so long as I can still stay relevant, keeping my speed up and all
of that stuff, I think I can still play.
I
know the league is getting a lot younger, but the league is based on speed and
as long as I keep my speed up I want to play as long as I can. Everyone I've
talked to that's out of the game says 'Stay, stay as long as you can in the
game,' so I'm going to try and do that. It's not that I'm afraid to let go, but
I think I'll know when the time is to go, but I'm not putting a number on it
right now. If it happens to be at the end of next season, then so be it, but I
definitely want to play beyond next season if I can.
Gregor:
Congratulations Jason, a huge honour for an Edmonton kid and a big inspiration
for many kids in growing up in Edmonton. You started out in Millwoods Hockey,
and look where it took you. Enjoy the game with your family.
Chimera: Thank Gregs. Thanks for reaching
out.

WRAP UP
Chimera is one of the nicest players I've met over the years. I was in my third year in broadcasting when he debuted with the Oilers, and I always enjoyed interacting with him. He was always smiling, and he spoke faster than me, which is rare. I was always in awe of his skating ability. For a big man he can fly.
I got to know him more after he was traded. We golfed in numerous tournaments during the summer, and he absolutely crushes the ball. For the past few years I always bumped into him and Sarah at the 104th street farmer's market. It's amazing how at 37 years of age he is still one of the fastest players in the league.
He joins a pretty exclusive club of players from the Edmonton area to play 1000 games.
Mark Messier (1756), Johnny Bucyk (1540), Jarome Iginla (1516), Daryl Sydor (1291), Dave Babych (1195), Stu Barnes (1136), Geoff Sanderson (1104), Craig Berube (1054) and Jay Bouwmeester (1039) are also in the club.
There are many other Alberta players who have played 1000 games, but not many from around Edmonton reach 1000 games. It is a huge accomplishment and Chimera is a great example for kids to always keep chasing your dreams. He wasn't drafted in the bantam draft and was a 5th round pick in the NHL, but almost 20 years later he'll play his 1000 NHL game.
Enjoy the moment Chimmer. Congratulations.
Recently by Jason Gregor: