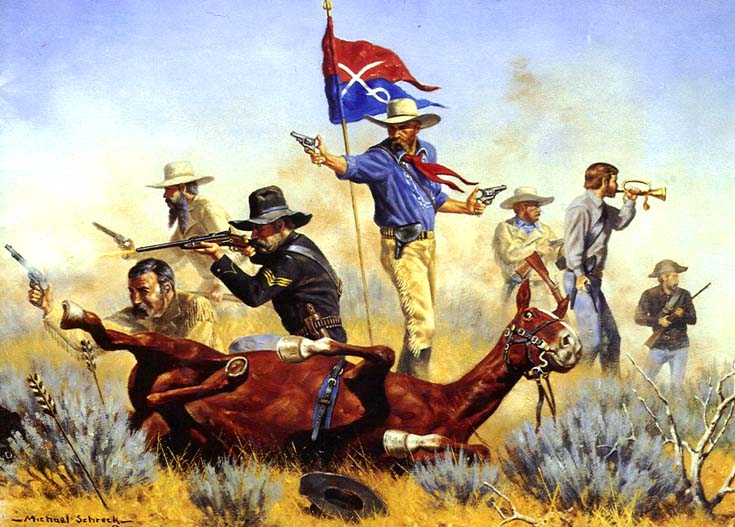 One of the biggest misconceptions in American history is Custer's Last Stand because it implies that George Custer and his troops made some heroic final stand v. the Cheyenne, which was never the case.
Custer and his troops were on the offensive at the Battle of Bighorn, only to get overwhelmed and killed by the Cheyenne and Sitting Bull. I learned this in History class many years ago, and got a refresher here.
What I didn't recall from our teacher was the dates the battle occurred; June 25th and 26th. How fitting that the NHL draft is on the exact same days this year. Oiler fans are hoping Steve Tambellini will mirror Sitting Bull, make the correct pick, and lead the Oilers to many victories down the road.
But who will be leading the team next season?
Tonight is the final home game for the Oilers, and many wonder if it is the last home game for Ethan Moreau.
Will this be Moreau's last home stand in an Oiler uniform?
If the Oilers don't win they will tie the franchise-low of 17 home wins, set in 1992/1993 and 1993/1994, and with Moreau's recent play it looks like he is trying to lead this team away from being the worst in franchise history.
Moreau has five goals, eight points, is +1 and has 38 shots in his last 16 games. In the previous 57 games he tallied 4-5-9, was -16 and had 98 shots.
If you pro-rate Moreau's last 16 games over 80 games he'd have 25 goals and 40 points. Of course those would be career highs, so it's safe to say he wouldn't keep up his recent pace over a full season, but I wonder if his recent strong play will see him back in Edmonton next season.
It was obvious at the deadline that Moreau was ready — and hoping — to be dealt, but Steve Tambellini tried unsuccessfully to move him. The fact no team was willing to take him, had to be a blow to Moreau's ego, and rather than pout about it, Moreau has responded with his best hockey of the season.
I've never doubted that Moreau cares. He's played the game with heart, grit and determination since breaking in with the Chicago Blackhawks in 1996. It's also fair to say that for a long period this year (34 games with no goals and four points) he looked defeated, broken down and on the downside of his career.
He's used the realization that no team wanted him as motivation to prove to people he can still play. Along with Shawn Horcoff, he's been the most consistent forward since the deadline, and it's not surprising that he's done that since Pat Quinn made them the checking line.
Despite being the 14th overall pick in 1994, Moreau learned early that if he'd be more of a checker than a scorer. He has worked diligently on his skating since entering the league and that's why for many years he was considered one of the better 3rd line players in the game.
He'll be 35 in September and if he wants another contract next summer he'll need to keep playing like he has since he was shunned by the other 29 general managers.
The Oilers will make a lot of moves this summer, but they can't trade the entire team. They need to keep some guys, and Moreau's recent play could have him here next September. H would have been moved in March if he didn't have another year on his deal, so don't be surprised to see him here next year.
Many fans and media have debated the merits of buying him out this summer, but I don't see the Oilers buying out three guys, and with Jordon Eberle, Linus Omark and their first pick coming in camp next year, those guys are going to replace Robert Nilsson and Patrick O'Sullivan, not Ethan Moreau.
You could buy out both O'Sullivan and Nilsson for a little more than what it would cost to buy out Moreau. Sure, Moreau struggled for most of this season, but he's given more to the organization than O'Sullivan and Nilsson combined and that should count for something.
I think reality hit Moreau hard on March 3rd, and rather than sulk the rest of the season, he looked in the mirror and realized that he needed to be better. I don't think a strong final 19 games can erase everything, but it shows he still cares.
He isn't the long term solution moving forward, but he is still a better option than many of the bottom six forwards the Oilers currently have and the over abundance of soft, small and non-productive forwards.
MEANINGLESS GAME
Oilers fans won't have to fret about beating Colorado and helping the Flames make the playoffs, because the Phlegms took care of business on their own by losing to San Jose last night, while rookie, Matt Duchene scored a beauty in the shootout to send the Avs to the playoffs.
Something tells me the Avs might be suffering a "playoff" hangover tonight and the Oilers should be able to give their loyal fans one final home win.
Dustin Penner mentioned 35 goals yesterday morning, so the big man might be bringing it hard tonight. He also confirmed he hasn't been contacted by Mark Messier and Craig MacTavish yet about the world championships.
Penner is currently tied for 16th in goals with Nick Backstrom and the only Steven Stamkos, Rick Nash and Jarome Iginla have more goals amongst Canadian players not in the playoffs. Iginla never goes to the worlds and Nash just played in the Olympics so he might want a rest. If they don't ask Penner then its clear MacTavish still has an axe to grind.
However, Penner didn't sound overjoyed about going. "I haven't been asked yet," he said. I pushed on and said if you were would you go? "I would do some deliberating." I think Penner will need some assurance that if he goes all the way across the world that the coach will play him. While MacTavish seems to have moved on, based on his commentary on TSN, I'm not sure Penner has. He should go if he is asked, and MacTavish should invite him.
Billy Moores was announced as one of MacTavish's assistants yesterday, and with the Dallas Stars out of the playoffs I wonder if Charlie Huddy will get the call? It's great to go with guys you know, but the optics would be horrible if Huddy is invited.